---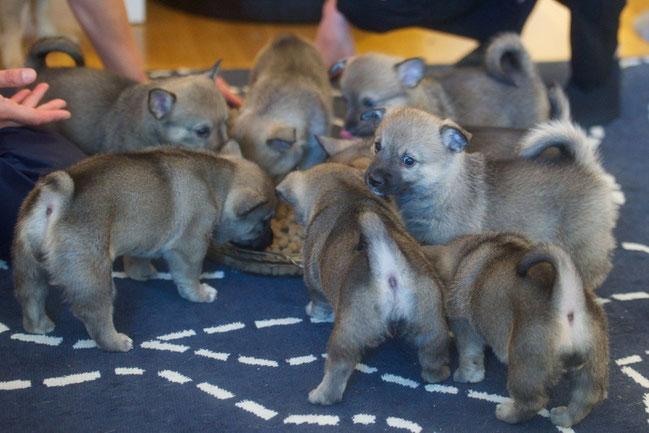 Alle foto's op deze pagina, m.u.v. enkele in de slider, zijn gemaakt door Oili Helenius
All pictures on this page, except some in the slider, were taken by Oili Helenius
---
Niike komt uit een nest van wel acht puppy's: ze heeft twee volle broers en vijf volle zussen. Beide reuen en één zusje zijn geboren met korte staart.

Niike is from a litter of no less than eight puppies: she has two full brothers and five sisters. Both boys and one girl were born with short tail.

---
Knappe jongen SuperTed is staartloos geboren. De kleur van zijn halsbandje was lichtblauw.

Handsome boy SuperTed was born without a tail. The color of his collar was light blue.
---
Suursmurffi is een leuke reu met korte staart. Hij had een donkerblauw halsbandje.
Suursmurffi is a nice boy with short tail. His collar was dark blue.
---
De roepnaam van Skrållan is Nysä. Zij is een mooi donker teefje met lange staart en haar halsband was groen.
Skrållan is called Nysä. Nysä is a beautiful dark girl with long tail. Her collar was green.
---
Somiste is een lief teefje met lange staart. Zij heet Lila en lijkt nu ze groot zijn erg op Niike. Haar halsband was lichtroze.
Somiste is a sweet girl with long tail. Her name is Lila and she looks like Niike a lot now they are adults. Her collar was light pink.
---
Het knappe teefje met de paarse halsband is Sopiva. Ze heet Salli  en heeft een halflange staart.
The pretty girl with the purple collar is Sopiva. She is called Salli and has medium length tail
---
Suhhaus was de actiefste dame van de familie. Ze heeft een lange staart en heet Hippu. Haar kleur was rood.
Suhhaus was de most active girl of the family. She has a long tail and is called Hippu. Her color was red.
---
Het mooie grijze meisje met de gele halsband is Supatus. Ook zij heeft een lange staart. Ze heet Susu.
The beautiful grey girl with the yellow collar is Supatus. She too has a long tail. Her name is Susu.
---
En dan natuurlijk onze Simasuu oftewel Niike zelf nog, met haar lange staart en knalroze halsbandje!
And then of course our Simasuu or Niike herself, with her long tail and bright pink collar!
---